Posts

1,909

Joined

Last visited

Days Won

4

Feedback

0%
About Dolomite`s Breezy

Profile Information
Location
Gender
Interests
Occupation

Dolomite_Supafly 's Breezy...
Miscellaneous
Handgun Carry Permit
Law Enforcement
Military
NRA
Carry Weapon #1
Carry Weapon #2
Dolomite`s Breezy's Achievements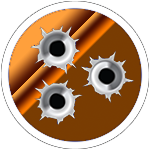 Prolific Contributor (4/5)
You know ,flattery will get ya anywhere with me ,Kevin..... well.. not really.. lol..

This is Betty.. she was a 25th Wedding anniversary gift from Dolomite to me.. She is all stock but has a mild to wild system and my heavy lead foot..I might add some tuning things ( if I ever read up on them and chose what I need/want) Its a 2008 in Victory red with black interior..

I have no desire to discuss politics with anyone.. lol ..I just walk away from it.. I get #### from guys all the time at the range ..or when we go skeet shooting.I had to learn to either just give a smart ass remark back at them or ignore them.. Some men are just jerks and think us womanfolk don`t have any gun sense about them...Its sad and pitiful.. but mostly I run into people who like us to shoot.And Dolomite and I do go shooting with members on here or have met them thru various outings and at home here..

We do take our dog to Home Depot or Lowes when we can. He loves riding in the truck and needs to be socialized.Those places are great for that.He is neither a service dog or a good ambassador for manners or behaving good among other people... He is a pup yet and acts like one...

That is legit for you.. but .. we are talking about some cruddy 20 year old with a mixed breed that is jumping and paying attention to other people instead of her.Not so much of a Heel or stay command.. that vest she had on that dog was a mesh vest that can be had for 20 bucks anywhere online with " service dog stitched onto it.. No " please do not pet" working dog anywhere on that vest .. I can spot a fake a mile away..legit service dogs do not act or walk and jump at people.. They are trained to ignore anyone and anything..

Liked it also...Clear and very nice sounding voices..:)I also liked the content.I never really listen to them but I think it might start .

This is " before" ...shower was never really used as it had some really low pressure and we only really used it to bathe the dogs. Didn`t like the tub anymore as it took up soo much room.This is also after I removed a wall size mural that was a jungle scene..( that was pretty 15 years ago)

This is where I started..walls and ceiling painted, I also painted vanity doors in same color as walls to save a little money The top was ugly so that is where the elm vanity top comes in.. we also updated light fixtures .. put casings around windows and installed a sliding barn door. Then put down tile.. still waiting on clawfoot tub I ordered. We get quotes from business to tell us they would charge us 20 k for redoing the bathroom or a porch..I rather do it myself and save.Dolomite also made the barn door handle to match the rollers up top..

Never ever seen one of those..But can see the firefly in it. We had a cocoon of some foam looking stuff..It was praying mantises..was super cool to watch them little guys hatch.

One of my relatives said on FB that its not the kids with mental problems.. its all these men and their automatic killing machines..... I about fell out of my chair....

I hope so.. and its not a bad thing to have hope!!

I was told to go vote.. I was told to go vote.. even them knowing I am not an American citizen..I told them no way and what could happen if they catch me.This was in a local election for some county seats. That makes me wonder how many non-citizen really do get to vote and how much a difference that makes. Voter fraud must be a pretty high percentage then?

Education is key.. not some gov. block of cheese and a card full of money to spend how they please. People on welfare aint starving ,in fact, its the opposite, the healthcare system is overloaded with High blood pressure, diabetic people( me included) obese and generally unhealthy folks.. Most do not know how to eat healthy or have parents that do not care how they eat. Nutritional guides are just that.A guide to follow but no one does..A Mountain Dew or Monster and a lobster is far from healthy. The problem is .. most have it much easier to be on welfare with 5 kids than taking a 8 bucks an hour job and pay for daycare. Its a easy ride and why should they work?I know people of generations and generations that have been on welfare and never worked a day in their lives..They are content to do this forever. We where on WIC when Dolomite was in the army..A E3 and me working, we still qualified for WIC after our son was born. We gave a lot a way because we would never use up all the milk or cheese they gave us.Its a good program and I am glad we had it back then..The welfare system on the other hand is a joke and it needs to me revamped and be stricter in enforcing it MRE`s .adjusted to a healthy caloric value is not bad when you are starving or have to feed your kids.:) I dont know the solution but something is very wrong when woman using their vaginas as clowncars, get on welfare ,flaunt it, are able to work and simply wont help them self and our veterans are starving,cant get relieve from trauma and are homeless...

Any gun shop.. take her and let her handle ALL of them..I think more so its the trigger not the gun itself.I have to be able to pull the trigger on them before I buy it..Its a main part of the gun and some are reset triggers or double pull and have a 500 lbs trigger.. some are really horrid ,some are nice and mushy.Holsters are as big part also for me.They have to sit a certain way or I wont use it. Gun shows are a good place since there are tables full of holsters and most vendors will let ya try it on or even shove your gun into it for a fit. Grip is another issue woman have..our hands do not have the calluses and palms and fingers sit different than mens( size wise) It makes a big difference when unholstering a gun.. Just something to think about

I always wonder where the parents/grandparents/friends where or why they did nothing? He had a social media account.Seems to me that if you are involved in your kids life,and they post stuff like that, they would have reacted sooner or at least got him some help... I cannot imagine as a parent to look away or think this is just a phase.What about other kids on his FB page? did anyone say anything before this happen?