Posts

10,275

Joined

Last visited

Days Won

231

Feedback

100%
About Chucktshoes

Profile Information
Location

Somewhere munching black pills

Gender
Interests
Occupation
Miscellaneous
Handgun Carry Permit
Law Enforcement
Military
NRA
Carry Weapon #1
Carry Weapon #2
Chucktshoes's Achievements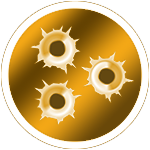 Postus Maximus (5/5)
1
Community Answers
I expect the Lautenburg Amendment to fall for the same reasonings. Like most gun laws in this country. I won't pretend that this doesn't elevate risk to some folks who find themselves in these situations. It would be ridiculous to do so. That said, it's also not like those restraining orders actually did anything to stop folks who sought to do harm. They're just pieces of paper after all.

Cleaned up the mess. Let's keep it clean and if anyone has questions, shoot seller a PM.

I'm of the opinion that it really depends on a few factors like how long the thread has been dormant and does the prior conversation on the topic bear directly (like providing context) to the new related post.

The safety protocols used in the industry that were developed with the assistance of the NRA remove the actor from the chain of responsibility for ensuring any real firearm used as a prop is safe to handle. While they were an improvement over prior protocols and practices, I don't see how they actually hold any legal weight with regard to culpability for anyone's actions. The NRA isn't a government body that has the ability to absolve anyone of responsibility or grant legal immunity as long as someone follows the rules they set forth. Regardless of the outcomes here, I suspect the industry is going to have to develop new protocols that involves more training of the actors who may handle real firearms as props, and more directly involves them in the chain of responsibility for safe usage and handling.

Normal command structure. LTs and Majors in the CoC.

An FFL on the other hand must comply immediately.

Class B misdemeanor. https://law.justia.com/codes/tennessee/2010/title-55/chapter-10/part-2/55-10-205/

Brace alone poses no issue at all.

Separate trials and change of venue was built into my statement. Doesn't change the fact that the jury will see that video.

I'm not so sure that the idea of each officer being judged individually is really that realistic. In the trial of all of them the video will be a primary piece of evidence and I just don't see anybody separating one person's punch or kick from everyone else's. They were all willingly active participants in this grossly egregious case of brutality and I suspect that any juror will see them as all jointly culpable.

https://wreg.com/news/investigations/atlanta-files-show-investigators-detected-deception-in-daviss-testimony/

Everyone who touched this is radioactive.