Posts

15,095

Joined

Last visited

Days Won

63

Feedback

100%
About hipower

Profile Information
Location
Gender
Interests

Reading, shooting, and housecleaning

Occupation
Miscellaneous
Handgun Carry Permit
Law Enforcement
Military
NRA
hipower's Achievements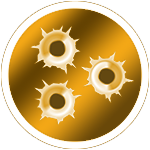 Postus Maximus (5/5)
1
Community Answers
That little stunt was long after my time there. Back 08/09 IIRC, It was my first time in there. Had heard all the tales about the place and just wanted to see it. Took my new Taurus 45SC in to try it out. Loved the pistol when I first saw it. Beautiful polished Stainless. 2" ported barrel. Gorgeous pistol. Also my first time with it and a 45 Long Colt round. Loaded that little pocket cannon and got set. Nice gentle squeeze on the trigger. Surprised me when it went off. Just like it's supposed to. Except for the massive explosion and echoe in that dungeon! And the recoil was tremendous! Ok..first shot. I'll do it again I think. Same result. Got the 3rd round down and I'm wanting to head home. This thing is too much! So I'm standing there with 2 rounds left and think that I must fire them out before leaving. Number was awful! Felt like the first three had joined in and tried to kill me! I determined I was going to finish. That last round was going downrange and into paper! I think I just stuck my arm out andtried not to jerk the trigger and make a bigger fool of myself. I failed. Didn't see a new hole in the target. Pulled the target in and saw it was hanging a bit loose on one side. Seems I sort of went off the paper with it. I'd hit part of the trolley mechanism instead. I called it a day and left. Never went back. I really disliked that place.

Actually, my little incident was about 2008/9. So, it's not likely.

Or until a 45LC round destroyes the trolley system! Don't ask!

Fantastic Manliccher stock!

Good! I was looking for ways to hide this from my wife! She says I don't Need another 22 in any form!

Send me a couple and I'll verify that is or isn't true!

STOP IT! You guys air a gettin on muh las nerv! I's a english perfector an this all ain't right! On the serious side...I drive my wife crazy correcting her. A big peave for me. So I'll stop there.

Good collection! Wish I had some of those treasures. My first K frame was a K22 WMF. Quite a shooter. But unreasonably finiky on cleanliness! It just will lock up after a couple of cyclinders. Cool it down and clean and it's ready to go. And before you suggest...it was sent to S&W. Supposedly they shave a hair's depth off the cyclinder and pronounced it "Fixed". LOL! Still does it. So I don't fire it much. My 351 PD has a similar issue too. It also went back. Pretty much the same when it returned. It's my wife's house gun. Laser grip equipped. I tell her to watch the dot and keep pulling the trigger until it's empty. Looking towards getting her to something else. Maybe a Walther PQ22. I'm liking the idea of her not having to have a full pull on the trigger with her artritis setting in.

Amazing the things that we find at Estate/Moving sales. My wife got me into in about 5 years ago. Now it's gotten to be a weekly ritual with us.

OK...re; Sabaton and res308's comments. For me, ARLINGTON just tears me apart. First time I heard it, I admit I cried. The song is so strong on family and service it is just amazing. Now for Sabaton. I was not prepared for this much of a reaction. I got chills and hair standing on my arms immediately. Totally fantastic! I loved it so much. The vocals remind me very much of a South African Singer...Steve Hofmeyer. I would love hearing him sing that first Sabaton song. I'm going to hit his FB page and suggest it. Steve's voice has a bit of raspiness similar to the Disturbed singer on his rendition of Sounds of Silence. I was just listening to u-tube music videos when I ran across Steve singing Barry Sadler's Ballad of The Green Berets. I was 17 and very impressionable when I first heard Barry Sadler. I was taken in immediately by his voice and lyrics. He's still one of my favorites.

We've bought the Aldi hams for years now. I can't really say how long, but they've always been great. No reason to stop. Usually would get 2 at a time, but since the immediate family is pretty small these days, one is enough. When I feel like splurging...Honey Baked Han and Turkey Breasts for me. And for our pork loving friend SNAVBA...I'll have one of your sammiches please! We've cut back on the bacon. So sad. Doc's orders. Gotta watch all those bad things now. But last few checkups are fair. I might celebrate with a BLT Tonight!

I've had a lot over the years, and like most of us...for some reason they just didn't seem to work for me. Lots of kydex. Just didn't warm up to them. The best of them seem to come with the Canik pistols. jmo

Correct. I sometimes focus too much on pistol buying and not the carry side of things. As such, I have several choices on my fav carry...a Galco OWB for my Shield Performance Center. I've tried several different holsters and forms...leather vs kydex, IWB Vs OWB. But this is my current choice. I won't comment on the ammo, as I tend to use my stock of various HP ammo. I haven't done a lot of extensive testing, as perhaps I should; but usually Hornady Critical Duty. If I feel the need for more powerful ammo, I have a few boxes of Buffalo Bore left. We all should get together for a holster swap meet! Might help us out.

Where is that "drool" imogee when I need it! I foolishly sold one of these years ago! 'Nuff said.