 Dirtshooter
Active Member
Posts

1,508

Joined

Last visited

Days Won

5

Feedback

100%
Profile Information
Location
Gender
Interests

grandkids, shooting, fishing, hunting,

Occupation

honey do's when not on strike
Miscellaneous
Handgun Carry Permit
Law Enforcement
Military
NRA
Carry Weapon #1
Carry Weapon #2
Dirtshooter's Achievements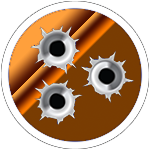 Prolific Contributor (4/5)
A tall oak tree and some rope would be a good start to straightening out our political mess!!

I didn't see this yesterday or I would have commented. Thanks to OP for your post. I know you didn't just join, but welcome to the site anyways. And resurrection Sunday is the brightest day of the year, no doubt. Jesus is King, Savior, Waymaker and to think that we as sinful mortal men can become a brother to Jesus and be rewarded as his kinfolk. Only if we believe that He is the Son of God, born of a virgin, died on that cross at Calvary and arose from that grave 3 days later. This isn't in the Bible, just my take on things. When each person dies, God will be interested in 1 question more than any other. What did you do with my son Jesus? You either accepted Him as Lord and Master, or you rejected Him. It is just that plain to me. I always try to tell people that you have to decide on this side of eternity, where you plan on spending all of eternity, because once you cross over that line, there will be no 2nd chances to change your mind.

We as gun owners find it very hard to believe things like this. Somebody either had their gun stolen or somehow the kids got the gun. Very sad for all concerned. Prayer lifted up.

Sorry to hear this Grunt. Will pray for all involved. Thank you both for your service!

Yea what Red said, soy product in insulation. I had a friend back 10 years ago that went to crank his fairly new Tundra and it wouldn't even click, towed to dealer and they said he need a new wiring harness, he said splice it and tape it up. Chipmunks are also pretty much a menace!!

It's all a shell game boys and girls. It's hard to stay focused on anything as much as they have going at any one time. Yea the last time I saw a POTUS motorcade on T.V. they weren't driving Prius's, I think they were Chevrolet Tahoes. The green deal people can preach all they want about green, it takes oil to make plastic, to mine for lead, copper, zinc. I can't keep up with the gas prices, about every 2 days they tack on another $0.10-0.20. Last time I looked was Sunday and it was $4.29 for the cheapo ethanol blend.

I'm in Large please. Like me some Mac tools btw.

Sorry to hurt your feelings, but the time and place to score deals was some years back when items were in stock and prices were reasonable.

Really? it's a gravel road, cut the downed trees and truck on!! I've put enough money in their tip jar to fix that road.

Glad for you Pop pop!! You and a bunch of other guys deserves all that money and a whole bunch more!! I am also very glad that you give God the credit as all blessings come from Him. A big bank account stuffed with money isn't anything unless it is shared with those less fortunate. Thank you for your service brother!!

Also if you have never driven out Parson's Branch road, that is an experience. There are several low water crossings. It comes out on Hwy 129 , take a left and it takes you to Fontana dam and lake. I wouldn't try it in a Tesla or a 'vette, a pickup or Jeep would suffice nicely.

That is sad, but also should be a wake up call for all of us. Never, ever let your guard down. Unless you know a person really well, keep an eye on him or her. You can't be too safe.

So according to the idiots at BATFE what you have rolling around in your head that you might be thinking of building a suppressor counts as much as having the piece of tubing, a lathe, a drill press, a welder, etc, etc. I would really like to know what they are so intent on banning suppressors for. I don't recall any recent shootings where a suppressor was used, unless I didn't hear that one!! Yes I intended to say hear. LOL

Hi Jeff it isn't just here, I have seen that several times when we lived in Mississippi. I think just fishin, it is very annoying to say the least.