Posts

5,656

Joined

Days Won

5

Feedback

100%
gjohnsoniv's Achievements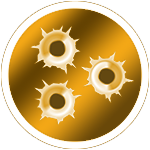 Postus Maximus (5/5)
The Halls one, and I'm reasonably sure I've seen them at the Dixie Lee Junction location as well.

If you have an Ace Hardware nearby try them. The one near me always seems to have the small Craftsman drill presses on display. Also check Northern Tool.

If only it had iron sights on it.

You need one. I saw a used one in the gun store and had already said I would take it on picking it up, before knowing what it was.

People can either shoot them or not, and you find out which category you're in really quickly. If you have shot a fair amount of shotgun it's no issue to pick it up and put several slugs center mass at 15 yards. If you haven't, well, good luck getting on paper.

Considering the pure number of videos coming from Brazil where people always seem to be wearing flip flops and shooting each other, you're spot on.

I think that you just killed the myth about "it's easy to convert an sks to take an ak mag."

I mean I'm sure Facebook would gladly give up the information, just like the ATF having free reign and access to this site and others I'm sure.

Well, they were going to nail him one way or another. Honestly surprised it wasn't suicide via round to back of the head. That or he'll end up dead after "resisting arrest."

To me the reality is for most people going with the steel is better than nothing. The weight sucks, but the weight will suck if 5 pounds a plate or 10 pounds a plate. On a set of steel I had I glued some thin foam to the backside and cut airflow slots into it and wrapped it over the top edge. Idea being A) air and some padding so it's not straight steel to chest and B ) when the plate inevitable rides up you don't get cracked in the jaw. Carrier wise I'm thinking the TAG Banshee is somewhat of the go- to for a decent carrier and decent price. In any case lots of good ones out there, just don't go Condor/Voodoo.

I'll do counterpoints to the above. If you wait and pay attention you can get ceramic plates, multi curve, and level iv from places like Highcom or similar for close to the same price as steel. Whatever you do don't buy a cheap carrier though, it will suck. Grey Ghost Gear makes a decent minimalist carrier but you will want to add padded shoulder covers. Spiritus Systems new carrier is supposedly nice but I haven't handled one of those. My personal carrier is a First Spear Strandhogg but those don't come cheap, though it is the most comfortable one I've worn. Outside of those there are plenty of good companies like TAG, Crye, BFG, and others that make fairly priced, not China made gear, like what AR500 sells.

Miss me with that fondant covered bs.

I thought .300 blk was supposed to be the .30-30 for ar's.

You mean you didn't do the drill through with the leg from another? Weird.